About YTB's Graduation Information Form
According to the latest regulations by the Turkish government, international students must fill out the Turkey Alumni form, prepared by the YTB. You can only cancel your university registration after you complete that form and deliver to the International Students Office, either by hand or by e-mail.
Unfortunately, the website has only Turkish version. Below, you can see the necessary steps:
Create a new account on https://www.turkiyemezunlari.gov.tr/auth/registergraduated/

Ad/Name
Soyad/Surname
Doğum Tarihi/Date of birth
Cinsiyet/Gender: Erkek/Male, Kadın/Female
Uyruk/Nationality
Eposta/E-mail address (not your METU email address, but another address)
Şifre/Password
Şifre Tekrar/Password again

Activate your account by clicking the link in the mail you receive.
Login to the website
First, update your personal information and add your foreign ID number to the "Kişisel Bilgiler" section and enter your date of birth.
Then click on Eğitim Bilgileri/Education Information
You may click "YÖK'TEN EĞİTİM BİLGİSİ SORGULA" to retrieve your information from the database of the Higher Education Council.
Once your information is retrieved, download the .pdf file by clicking "Bilgi Formu"
Get a print-out of the form and fill the missing parts by hand
ÖĞRENİM ŞEKLİ/TYPE OF FINANCING: [ ] KENDİ İMKANLARIYLA/SELF-FINANCE [ ] TÜRKİYE BURSLUSU/TURKEY SCHOLARSHIP [ ] DİĞER BURSLU/OTHER SCHOLARSHIP
MEZUNİYET SONRASI PLANLAR/PLANS AFTER GRADUATION [ ] ÜLKEME DÖNECEĞİM/GOING BACK TO HOME COUNTRY [ ] TÜRKİYE'DE KALACAĞIM/STAY IN TURKEY [ ] BAŞKA ÜLKEYE GİDECEĞİM/GOING TO ANOTHER COUNTRY
TÜRKİYE TELEFONU/Phone number in Turkey
ÜLKESİNDEKİ TELEFON/Phone number in the home country
Sign the form, scan it or take a high-quality picture of it.
Send the form to iso@metu.edu.tr: Write "Graduation Information Form" to the subject line together with your ODTÜ ID Number.
We will send a confirmation e-mail so that you can cancel your registration on the system.
IF YOUR INFORMATION CANNOT BE RETRIEVED FROM YÖK, PLEASE FOLLOW THE STEPS BELOW:
Click on EKLE/ADD and choose your level of education Lisans(Undergraduate), Yüksek Lisans (Masters), Doktora (Ph.D.)

Click on MEZUNİYET BİLGİ FORMU OLUŞTUR / CREATE GRADUATION INFORMATION FORM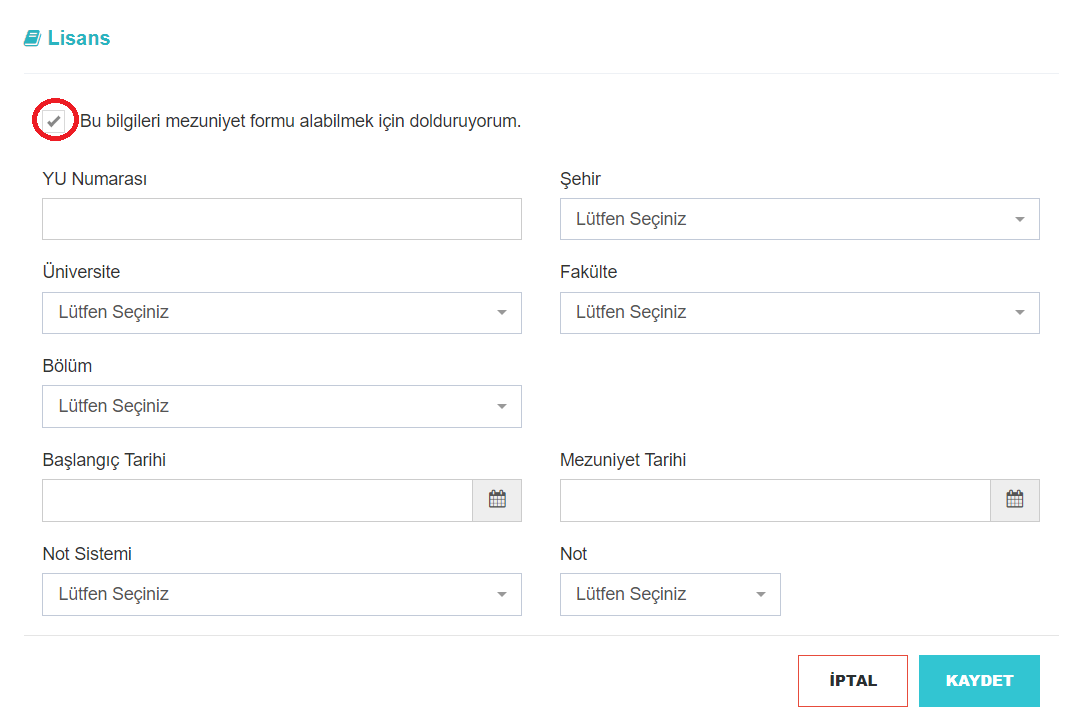 Check the box for "Bu bilgileri mezuniyet formu alabilmek için dolduruyorum."
Fill out the rest of the form:
Ülke/Country
Şehir/City
Üniversite/University
Fakülte/Faculty
Bölüm/Department
Durum/Status: Mezun/Graduated
Başlangıç Tarihi/Date of starting program
Mezuniyet Tarihi/Date of Graduation
Not sistemi/Grading System
Not/Grade
Ondalık/Decimal

You do not need to upload diploma or transcript
Click on KAYDET/SAVE
Click on Bilgi Formu/Information Form and download the form.

---
Last Updated:
19/02/2020 - 14:47